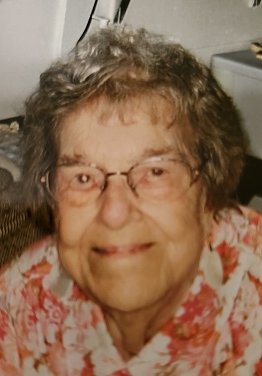 Obituary of Charlotte Mae Caldwell
On October 23, 2019 the matriarch of the Caldwell family went to be with our Lord and savior in heaven after a life of 103 years. Charlotte Mae (Walker) Caldwell was born on July 27, 1916 in Camden, NY. She attended Camden schools. On August 31, 1935 she married Edward Caldwell in Taberg, NY. They enjoyed a blessed union of 56 years until Ed's passing January 20, 1992.
Charlotte's first position of employment was when she was just 16. She worked at the Mystic Stamp Company in Camden. During her married years she dedicated herself to raising her two children, cooking and keeping house.
In her later years, she was an active member of the Golden Years senior group at the Rome First United Methodist Church and the Ava Dorfman Center. She enjoyed many bus trips with both groups. Wherever she went, she easily made lifelong friends. She 'adopted' many of the caring staff at the extended care facility in the Bartlett Wing at Rome Hospital. As she approached her 100th birthday, she often joked that she had to stick around because they hired new staff and she had to train them. They all knew the proper way to make a bed early in their employment.
Charlotte enjoyed many Sunday sermons on TV and her weekly Sunday phone call from a special nephew Jack Higham. She also looked forward to visits from her great nephew Bill and Connie Lombardo who would bring her a tray of homemade goodies every couple of weeks. Charlotte's primary source of communication was by telephone. She loved keeping in contact with her family and friends with several daily phone calls right up to the day of her passing.
Charlotte is predeceased by her parents, Arthur and Emma (Newman) Walker, of Camden, two sisters, Mildred Higham, Ruth Philpot and two brothers both of Camden, Elwin and Elmer Walker and one grandson Eddy Jr. of Delaware. She leaves behind her two sons and daughter in laws, Ed and Ginette of Lewes Delaware, Dave and Gwyn of Rome, three grandchildren, David Jr. and Lourdes Caldwell of Hopewell, NJ, Melissa Caldwell of Utica, NY and Erika Caldwell of Lewes, Delaware, 10 great grandchildren and several nieces, nephews and cousins.
The family wishes to extend a heartfelt thanks and immense gratitude for the exceptional care our mother and grandmother received during her five years at the three east floor of Rome Hospital. We tell everyone we can that if one ever needs this type of care, the Bartlett Wing is the place to go.
In lieu of flowers, the family is requesting donations to be made to the Building Fund at the Rome First United Methodist Church, 400 N. George St. Rome, NY.
Funeral services will be held on Monday, October 28, 2019, at 2: P.M. at Strong-Burns & Sprock Funeral Home 7751 Merrick Road, Rome. Family and friends are invited to attend calling from 11 A.M. to 2 P.M. prior to the service. Interment will take place in Rome Cemetery.
Caldwell
11:00 am - 2:00 pm
Monday, October 28, 2019
Strong-Burns & Sprock
7751 Merrick Rd
Rome, New York, United States
(315) 336-6360
Caldwell
2:00 pm - 3:00 pm
Monday, October 28, 2019
Strong-Burns & Sprock Funeral Home
7751 Merrick Rd
Rome, New York, United States
(315) 336-6360