Recommend Mark's obituary to your friends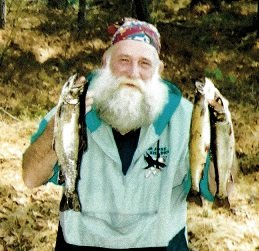 Obituary of Mark J Pritchard
Mark J. Pritchard, "Moose", 67, of Rome, NY passed away peacefully on Friday, September 6th, at his son's home under the care of his soon to be daughter-in-law, son and four-legged grandson, Koda.
Located at the end of a dirt road in the woods on a lake, there couldn't have been a better place for Mark to spend his final days; it was one of his favorite places to be. An avid outdoorsman born on August 17th, 1952, to Harry Pritchard and Elizabeth Riegler, Mark preferred to be outside, in nature, over anything else.
For 39 years, Mark worked for the NYS DDSO caring for those with developmental and cognitive disabilities. Retiring just over a decade ago, he loved to hunt, ski, fish, camp, and hike. If he had it his way, he would have never gone inside. He had an uncanny ability to fry trout and cook venison to perfection. His tulips would give Better Homes & Gardens a run for their money.
Although he usually came across as an old fashioned, stern man, he had the patience of the Dalai Lama when it came to puppies and children with a specific skill set for teaching kids how to fish no matter their level of inexperience.
True to the typical outdoorsman, his stories often came with a certain level of exaggeration and creative license. He enjoyed good whiskey, rare steak, fresh sweetcorn, and Ferlo's bread. He loved to play pitch and had no problem giving you "free lessons" if you thought you could keep up. The next time that you have trouble getting a monster in the boat or miss a 12-pointer with no one around to see it, think of him. He's with you and would be happy to back up your (questionable) story.
Mark is survived by his son, Christopher, daughter-in-law to be, Lauren Klahold, their four-legged son, Koda, older brother, Harry "Butch" Pritchard, younger brother, Eddie Pritchard, a handful of nieces and nephews, and a great niece Haley, for whom he had a particular soft spot. Services will be held at Strong-Burns & Sprock, 7751 Merrick Rd., Rome, NY on Thursday, September 12th from 4-7 pm.
In lieu of flowers, please send a check of any size along with a thank you card to Hospice of Oneida County. The work they do is invaluable and we are exceptionally grateful as a family for the care that they provided at the end of Mark's life.
Visitation
4:00 pm - 7:00 pm
Thursday, September 12, 2019
Strong-Burns & Sprock
7751 Merrick Rd
Rome, New York, United States
(315)336-6360
Celebration of Life
7:00 pm - 8:00 pm
Thursday, September 12, 2019
Strong-Burns & Sprock Funeral Home
7751 Merrick Rd
Rome, New York, United States
(315)336-6360