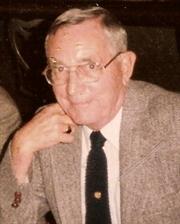 Share Your Memory of
Harold
Obituary of Harold Small
Harold Risley Small
Rome, NY
Harold Risley Small, LTC USA (Ret.), age 92, passed away at his home, surrounded by his family, on Friday, November 6, 2009.
Harold was born in Vernon, on May 6, 1917, the son of Harold Watkins and Adah Risley Small. He attended the New Hartford and Utica Schools, graduating from UFA in 1935.
He enlisted in the Army following Pearl Harbor and was commissioned as a 2nd Lt. Inf. at Ft. Benning, GA, in 1942. He served overseas in World War II with the 34th Inf Div. in North Africa and Italy. He was a Purple Heart recipient as a result of wounds suffered in the Battle of Monte Cassino. He received the Bronze Star in addition to the Army commendation Medal for meritorious service.
Harold was discharged into the Officer's Reserve Corps following separation from the service at the close of WWII and recalled to active duty in 1951 and served with the US 8th Army in Korea, 1951-53. Following separation from active duty he remained in the active Reserve with assignment to the 98th Division, retiring on May 30, 1970 as Battalion Commander 2nd Bn 389th Inf, Elihu Root Reserve Center, Utica, NY.
On November 7, 1942, he was united in marriage to Kathryn Jane Feeney of Utica, a union that lasted nearly 55 years until her death in 1997.
On September 4, 1997, Harold was united in marriage to Joanne B. Risley, widow of his cousin Allen F. Risley.
Harold retired from the US Postal Service in 1977 as Administrative Officer in Labor Relations, Utica.
Harold was actively involved in the Clinton Historical Society, Sons of the American Revolution, the American Legion, and past president of the Risley Family Association. He was an avid reader all his life and had a shy passion for bird watching, fly fishing and all things historical.
He is survived by his loving wife and best friend, Joanne; a daughter, Laurel of Clinton; a daughter-in-law, Kenna Small of Yarmouth, ME; grandson, Michael and his wife Debbie Small; brother, Ralph D. Small of Marcy; sister, Virginia Snyder of Vernon; stepdaughter Susan and Brian Hamilton of Melbourne, FL.; stepson, Allen J. Risley and children, AJ and Katie of San Marcos, CA; sister-in-law Mary Bader of Anchorage, Alaska; cousin, Floyd and his wife Lee Risley of New Hartford; and friends Victor and Nicole Iverson of Rome. He is predeceased by his wife Kathryn and loving son, Harold Watkins Small of Yarmouth, ME.
Funeral services will be held on Monday, November 9, 2009 at 12:00 Noon at the Owens-Pavlot and Rogers Funeral Service, Inc., 35 College St., Clinton. Relatives and friends may call on Monday, November 9, 2009 from 11AM until the time of the service.
In lieu of flowers please consider donations to the Stevens Swan Humane Society of Oneida County, 5664 Horatio St., Utica, NY 13502 in Harold's memory.
The family wishes to thank the Visiting Nurse Association and Dr. Sabato Ramineni. Harold will be deeply missed and long-remembered.