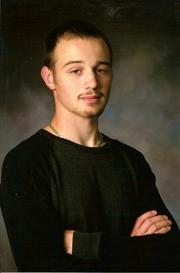 Share Your Memory of
Cullen
Obituary of Cullen Kleftis
Cullen Reilly Kleftis died Sunday, October 11, 2009 from complications related to bone cancer called Osteosarcoma. Cullen lived and loved life. He lived an incredible 19 year journey that inspired family, friends and acquaintances. His legacy is defined by his strength, courage, kindness and love for others. He will be missed by Sandy (mother), Bill (father), Shawna (sister), Nolen (brother) and many other family members and friends.
Viewing will be held at the Clinton Arena, Clinton, NY on Thursday, October 15, 2009 from 10am to 1pm. Services will follow at the Arena at 1pm. A private burial service will be held for the family.
In lieu of flowers, please consider donations to the Cullen Kleftis Memorial Fund, c/o ACCESS Federal Credit Union, 6 Franklin Ave, Clinton, NY 13323.