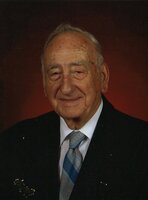 Ralph W. Seifert, Sr
Ralph W. Seifert, Sr. 97, of Rome, passed away peacefully August 25, 2022. He was born in Verona, NY, a son of Leroy and Pearl Ward Seifert. Upon graduation from Rome Free Academy in 1943, he was immediately drafted into military service. In 1949, Ralph married Licia Golden in St. John's Evangelical Lutheran Church, Rome. Sadly, his beloved wife of 68 years predeceased him in 2017.
Ralph served his country during WWII as an expert rifleman in Company B of the 305th Infantry Regiment, 77th Division. On December 16, 1944, he was near fatally wounded by a sniper's bullet while defending a position (Ormoc) on Leyte, the Philippines, and subsequently was awarded the Purple Heart. Discharged from the Army in 1945, Ralph returned to Rome and worked for a short time at J. C. Penney (as he had while still in high school) in addition to helping out at his family's general store at Seifert's Corners. The following year he was hired as a temporary rural letter carrier for the Rome Post Office and two years later (1948) was appointed the regular mail carrier for Rural Route #3. For the next 32 years Ralph delivered mail to the residences on this very route. He retired in 1981.
Ralph had many interests, but his greatest passion was for the outdoors: hunting, trapping, snowshoeing, and Boston Red Sox baseball. He was a life member of the Rome Elks Lodge #96 and the Oneida Co. Volunteer Firemen's Association, a member of the Volunteer Firemen's Benevolent Association, Rome Hook & Ladder Co. No. 1, the CNY Chap. #490 MOPH, American Legion Post #1846, Roman-Hathaway Lodge No. 223 F. & A.M., and the congregation of St. John's Evangelical Lutheran Church, Rome.
Surviving are two daughters, Ellyn (Robert) Bibik, of Verona, and Susan Seifert, of Albany; one son, Rick (Jean) Seifert, of Rome; grandchildren, Stephanie (Ludovic) Cosseron, of College Station, TX, and Maj. Kyle Seifert and wife Sunni, of San Antonio, TX; great-grandsons, Matthew Daniels and Joshua Averill, of College Station, TX; nieces, Marlene Love Blackwell, of Rome, and Karen Golden Weiss, of Voorheesville, NY; nephews Lee Love, of Mesa, AZ, and Arthur Golden III, of Rome. A sister Gloria S. Love and an infant older brother, Ward Leroy Seifert (1923–24), also predeceased him.
Funeral services will be held Thursday, September 1, 2022, at 10 AM at Strong-Burns, & Sprock Funeral Home, 7751 Merrick Road, Rome, New York. Burial with military honors will be at Rome Cemetery. Family and friends may call at the funeral home on Wednesday, August 31 from 5 – 7 PM. In lieu of flowers, kindly consider a contribution in Ralph's memory to the Sunshine Fund at the NYS Home for Veterans, 4207 State Hwy 220, Oxford, NY 13830. Donations may also be made to the Rome Cemetery Association, P. O. Box 464, Rome, NY 13442.