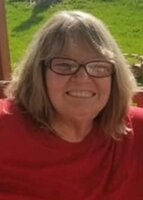 Shirley E. Drake
Shirley E. Drake
Shirley E. Drake 75, of Point Rock, passed away peacefully on August 10, 2022, at Waterville Residential Nursing Home. She was born on April 4, 1947, in Rome N.Y. a daughter of the late James and Gertrude Storms Lyke. Shirley was educated in Rome Schools and was formerly employed by Con Med and Met Life prior to her retirement. She was united in marriage for 27 years to William Drake. Shirley was formerly married to William Allen. Shirley enjoyed cooking for her family and loved to watch game shows and crime stories on television.
She is survived by her beloved husband, William Drake of Point Rock, four daughters, Patricia Cullop, Whitesboro, Diana (Marty) Martinez Carstarphen, OH, Lee Scott (Tony Testa), Yorkville, Kelly Keene, Rome; a step daughter, Tessa Drake, Lee Center; a son and daughter-in-law, Roger "Digger" Russell and wife Maggie, LA; three sisters, Florence Aikens, Beverly Garofalo and Karen Lyke; a brother and sister-in-law, Ronald and Sandra Lyke; a special friend, Shirley O'Neil; along with many grandchildren and great grandchildren. Shirley was predeceased by stepson, William Allen Jr. and a sister, Sandra Finch; three brothers, James "Jimmy Boy" Lyke, Eddie Cutler and Harvey Adsit.
Funeral services will be held Saturday, August 13, 2022, at 10 A.M. at Strong-Burns & Sprock Funeral Home 7751 Merrick Road, Rome. There are no calling hours. Interment will take place in Evergreen Cemetery, Stokes.