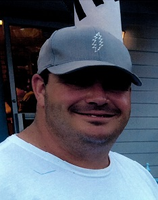 Kevin A. Magnanti
Kevin August Magnanti
Kevin A. Magnanti, 41, of Rome, passed away on March 26, 2019, at his home, surrounded by his family, after a brave battle with cancer. He was born on October 8, 1977, in Rome N.Y., a son of James and Patricia Jennings Magnanti. He was educated in Oriskany Schools and was united in marriage to Alyssa Gennaro in a ceremony which took place at Hart's Hill Inn. Kevin owned and operated East Rome Landscaping and was formerly employed by ACE Hardware. Kevin enjoyed working in the outdoors and spending time with family and friends.
He is survived by his father and stepmother, James and Becky Magnanti, Rome; his beloved wife, Alyssa, Rome; two cherished sons, Augie age 6 and Rocco age 2; a brother and sister-in-law, James and Jaime Magnanti and their son Nicholas, Charlotte, NC; mother-in-law, Susan (Thomas) Hluska, father-in-law, John Gennaro Jr.; paternal grandmother, Antoinette Magnanti, Rome; uncles, Augie Magnanti Jr., David Jennings, Mark (Sophie) Jennings, Jeffrey( Robin ) Jennings; aunts, Karen Pazdur, Joanne Mullen, Luann Jennings (Jon Vander Pyl), Deborah (Timothy) Lambert; along with many cousins and dear friends. Kevin was predeceased by his mother, Patricia Magnanti, grandparents, Louis and Helen Jennings; grandfather Augie Magnanti Sr.
In lieu of flowers memorial contributions may be made to August and Rocco Magnanti Education Fund. Alyssa Magnanti C/O Jennings Nulton and Mattle Funeral Home 1704 Penfield Road, Penfield N.Y 14526
Please make checks payable to: New York's 529 Advisor Guided College Saving Program
Funeral services for Kevin will be held on Saturday, March 30, 2019 at 3:00 P.M. at Strong-Burns & Sprock Funeral Home 7751 Merrick Road, Rome. Family and friends are invited to attend calling hours on Friday from 3-7 P.M. at the funeral home. Interment will take place in St. Johns Cemetery.