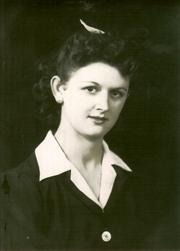 Share Your Memory of
Dorothy
Obituary of Dorothy Smith
Dorothy E. Smith, 83, of Woodlawn Place, passed away on Thursday, November 19, 2009 at the Katherine Luther Home surrounded by her loving family.
She was born April 10, 1926 in Clark Mills, a daughter of the late Erick and Sarah Abbott Warlick and graduated from Westmoreland Central School. On March 30, 1946 she was married to Gerald G. Smith Sr., a devoted union of 63 years. They enjoyed their winters in Plant City, FL, as well as square dancing and playing cards. Dot worked at Clinton Central School for many years and was a member of the Schooltown Questers and the O.E.S. Grace Chapter.
She is survived by her husband Gerald G. Smith, Sr; two sons and daughters-in-law, Gerald and Carm Smith Jr. of Clark Mills and Skip and Julie Smith of Whitesboro; three grandchildren and their spouses, Gregory and Teresa, Gerald III and Ann and Sarah; a great-grandson, Joshua; two sisters, Gertrude and Bill Mahady of Vernon and Barbara LaConte of Whitesboro and a brother, Erick and Liz Warlick of New York Mills; and a niece and her husband Billie Jean and Ron Judge. She was predeceased by a niece Debbie Forsythe.
Funeral services will be held 10am on Saturday, November 21, 2009 at Owens-Pavlot & Rogers Funeral Service, Inc, 35 College St., Clinton. Burial will follow in Kirkland Cemetery. Friends are invited to call today from 6-9pm. O.E.S. Bell Tower Chapter will conduct services at 7pm this evening.
Please consider donations to Alzheimer's Assoc. of CNY, 441 W. Kirkpatrick St., Syracuse, NY 13204.