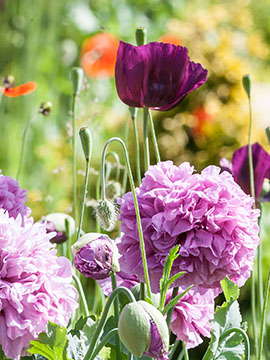 Obituary of Patrick Smith
Patrick A. Smith 60, of Rome, passed away on May 7, 2017, at his home with his family by his side. He was born in Rome, N.Y. on June 24, 1956 a son of the late John and Lorraine Sharpe Smith. Patrick was a graduate of R.F.A. class of 1974. On September 3, 1976, Patrick was united in marriage to Sharon Lyon in St. Paul's Church in Rome. Patrick was employed by Revere Copper and Brass for ten years, where he also served as the union president. He then worked for Congressmen Sherwood Boehlert, and later Michael Arcuri, in the District Office in Utica, N.Y. Pat was an avid outdoorsman spending much of his time hunting and fishing. He was also a lover of golf and spent many years enjoying the sport with his family and friends. Pat's greatest love was his grandchildren. His love and devotion led him to every game, recital, and concert and was proud to be called "Grandpa Honey."
Surviving are his three sons, Jacob and Kristin Smith , Rome, Justin Smith, Vermont, Joshua Smith and Katie Cutillo, Vermont; two daughters, Kylie and David Mitchell, Rome, and Brittany Smith of Barneveld; his former wife Sharon Smith of Barneveld; six grandchildren, Brynn and Brody Smith, Jameson, Jackson and Taylor Mitchell, Ira Smith, and one on the way; four brothers, John and Glenda Smith, Glens Falls, Michael and Judy Smith, Rome, Richard and MaryAnn Smith, Oneida, Brian Smith and Phong Diep, Ithaca; six sisters, Sharon Smith, Rome, Jackie Libertino, Virginia, Abby and Wayne Brown, Rome, Kelly Tuthill, Lee, Lori and Dave Cimpi, Oneida, Tricia and Richard Hladun, Floyd. He was predeceased by a sister, Mary Jane Aikens; brothers in law, Jack Libertino and Robert Tuthill; and nieces, Kimberly Neiss and Corinne Smith.
Pat's family would like to extend a special thanks to his brother, Richard, for the care and compassion he showed Pat over the last several years.
Memorial contributions may be made to Hospice and Palliative Care 4277 Middle Settlement Road, New Hartford, N.Y. 13413
Family and friends are invited to attend calling hours on Monday May 15, 2017 from 3-6 P.M. at Strong-Burns and Sprock Funeral Home 7751 Merrick Road, Rome. Funeral services are private.