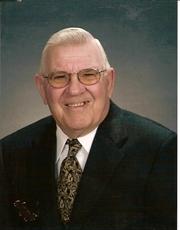 Share Your Memory of
Russell
Obituary of Russell Conley
Russell F. Conley, 81, of Henderson St., passed away Thursday, October 22, 2009 at the Presbyterian Home for CNY with his family by his side.
He was born February 9, 1928 in Utica, the son of Floyd and Celia Moriarty Conley. He graduated from Clinton Central School in 1946 and from Morrisville College in 1948. On June 25, 1949 he married Beverly Larsen at St. Paul's Church in Whitesboro. Russell served his country in the US Army during the Korean Conflict. He retired from B.W. Husted & Sons after 35 years. At St. Anne's Church he served as an usher and Eucharistic Minister for 38 years and was a member of the Holy Name Society. He was also a member of the American Legion.
Dad had the gift of being able to make things right. He could put his hand on your shoulder and give you strength. If he said "c'mon you can do it: you suddenly knew you could. He loved everyone, but especially children, they in turn, loved him. He took care of everyone. He built our home and spent countless hours lending his skilled hands to others as they built or repaired theirs. If someone needed help, Dad showed up. He laughed easily and could find the good side of those around him. He was kind beyond imagination and was flawlessly forgiving. He spoiled Mom and us kids with love that could be felt and seen - but would be difficult to describe in words. He knew what to say and the expression to wear for every occasion. Right and wrong was an easy decision for him. He stood for what he believed in. He believed in God. He helped build St. Anne's Church. He loved his mother and dad. His strong calloused hands could soothe hurt feelings and broken hearts as readily as they could tune an old car, build a cabinet or put on a new roof. When he hoisted you upon his strong shoulders as he walked "over to the barn" you instantly ruled the world. He was witty and could find a solution to every problem. He was magic.
As he went about living he was usually whistling or singing and always enthusiastic. More than anything else he loved to spend time with his family - he loved surprising them with the simplest things - a ride, a picnic, camping, a trip to the beach, the toboggan run, a drive-in movie and sometimes, those that were a bit more extravagant - a built-in pool, a trip to Story Town and countless other adventures. Spending the day at home was probably the most rewarding. With eight children of his own he managed to make each one feel as if he loved them the best. Beyond his eight he kept an extended family of those that called him "Dad", "Rusty", "Honey", "Bampa" and "Boss". He was and will continue to be a gift to those who he has taught for so many years. What he taught was how to be an honest decent loving husband, father, grandfather and friend. The difficult part of course is living those lessons. We can only do our best. It has been said that the greatest gift a father can give to his children is to love their mother. Thank you Dad - for giving us that gift and for showing us how. We love you beyond our ability to put into words, we know you are watching and that you will continue to take care of us as you always have.
Now, as you join those that you love that have gone before us, and until we meet again, do now as you always have - Dance as if no one were watching, sing as if no one were listening and live every day as if it were your last.
He is survived by his wife, Beverly; four sons, four daughters and their spouses, Kevin R. and Barbara Conley of Clinton, Colleen Perkins of Cape Cod, MA, Corey R.J. and Tammy Conley of Clinton, Kim R. and Mary Conley of Ilion, Kelley and Hal Renninger of Remsen, Kristen and Michael Lyons of New York Mills, Keith R. and Debra Conley of Floyd and Kerry Conley of New York Mills; fourteen grandchildren; three great-grandchildren; his sister Doreen Clark of Camden and several nieces and nephews. He was predeceased by his parents and a sister Marion Greenfield.
Funeral services will be held Monday, October 26, 2009 at 10:30am at Owens-Pavlot & Rogers Funeral Service, Inc, 35 College St., Clinton and 11:30 am from St. Paul's Church, Whitesboro. Interment with military honors will be in Mt. Olivet Cemetery. Friends are invited to call Sunday from 3-6pm at the funeral home.
Please consider donations to St. Jude Children's Research Hospital, 501 St. Jude Place, Memphis, TN 38105
The family wishes to thank the dedicated staff and many friends at the Presbyterian Home, Cedar wing that gave loving care to Dad during the past year. A special thank you goes to Ollie Rudd for her on-going spiritual support.