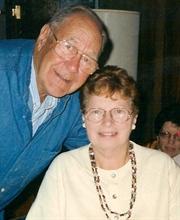 Share Your Memory of
Harold
Obituary of Harold Zieres
Harold "Zig" Eugene Zieres
Deansboro, NY
Harold Eugene Zieres, 88, of Deansboro, passed away on Wednesday, October 14, 2009 at the Harding Nursing Home in Waterville.
He was born son of the late William and Anna Kaufman Zieres on March 29, 1921 in North Branch, NY. Following graduation from Waterville Central School, Harold entered the U.S. Army at the onset of WWII. After the War, he married Irma Palmer of Forge Hollow on May 27, 1946 and entered the Civil Service as a Refueling Supervisor at Griffiss, AFB in Rome until his retirement in 1973. He was a member of the Waterville Baptist Church, Mohican Model A Ford Club, VFW, American Legion, and Clinton Fish and Game Club. Harold was an avid fisherman, hunter, and gardener.
Harold is survived by his four children and their spouses, Mabel and Mike Silliman of Deansboro, Nancy and Donald Ferree of Bellevue, NE, William and Brenda Zieres of Madison, and COL Carol Zieres of Safety Harbor, FL.; seven grandchildren, Michael (Beth) Silliman, Jr., Donald (Patricia) Ferree, Jr., Suzanne Ferree, Kate Zieres, Megan (Tyrell) Tompkins, Will Zieres and Ryan Ingalls; three great-grandchildren, Crystal Silliman, Tyler Silliman, Emmett Tompkins; a brother-in-law, COL Arthur Palmer (Ret.) of Fort Worth, TX; a niece, Margaret (Sam) Fleming and friends. He is predeceased by his wife, Irma; two sisters and one brother.
Funeral services will be held Thursday, October 22, 2009 at 10:00AM at the Owens-Pavlot & Rogers Funeral Service, Inc., 35 College St., Clinton with Pastor Laverne Rowling officiating. Relatives and friends may call Wednesday, October 21, 2009 from 5-8pm at the Owens-Pavlot & Rogers Funeral Service, Inc. Interment will be held at the Deansboro Cemetery.
Please consider donations in Harold's memory to the Waterville Baptist Church, PO Box 67, Waterville, NY, 13480.
www.owenspavlotrogers.com